Title: Lucky Boy
Author: Shanthi Sekaran
Publisher: Pemguin Random House
Publication Date: 01/10/2017
Genre: Women's Fiction, Literary Fiction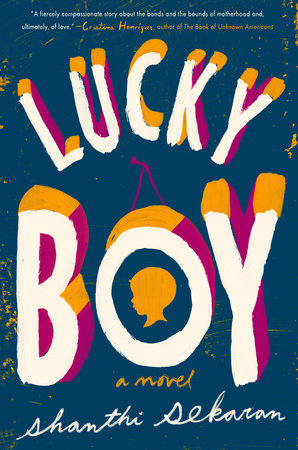 I'd just like to take a moment and thank Penguin Random House International for the review copies that I was sent even if I was away from home and reviewing for my CPA (certified public accountant) exams and being on a blog hiatus as much as I hate that I miss reading and reviewing these books so much so I'm sending over my warm caramel hugs and soft vanilla sundae smiles because I got to pass that exam and I'm already a CPA in my own right and I owe the publishers a toast for that. Thank you. I love you to bits and pieces.
The Gist:
Eighteen years old and fizzing with optimism, Solimar Castro-Valdez embarks on a perilous journey across the Mexican border. Weeks later, she arrives in Berkeley, California, dazed by first love found then lost, and pregnant. This was not the plan. Undocumented and unmoored, Soli discovers that her son, Ignacio, can become her touchstone, and motherhood her identity in a world where she's otherwise invisible.
Kavya Reddy has created a beautiful life in Berkeley, but then she can't get pregnant and that beautiful life seems suddenly empty. When Soli is placed in immigrant detention and Ignacio comes under Kavya's care, Kavya finally gets to be the singing, story-telling kind of mother she dreamed of being. But she builds her love on a fault line, her heart wrapped around someone else's child.
"Nacho" to Soli, and "Iggy" to Kavya, the boy is steeped in love, but his destiny and that of his two mothers teeters between two worlds as Soli fights to get back to him. Lucky Boy is a moving and revelatory ode to the ever-changing borders of love.
The Review:
I literally finished this book with a fever. As I mentioned on twitter I read this book with a feverish speed. I couldn't stop reading it. If this was only the kind of home reading reports we did on high school not some stuff I can't even remember. Maybe we would have been better young people these days. That we'd fight with and for people that can't fight for themselves even in the smallest ways we possibly can.
At first I thought this was like some kind of those teledramas on tv that we have here in the Philippines, I was wrong. Those are nothing compared to this book. This book hurt me. This book made me mad. This book made me nauseous. This book made me think of how lucky am I as a girl and a young woman. I realized how ungrateful I am, how I take everything for granted, I wanted to slap myself.
I see Soli and what she's been through. I can't even count how many times she's been used, harassed, objectified and raped. I was always crying with her with pity, with empathy, with hurt. If only I could get back and have revenge to the people who hurt her. I hate those smugglers, immigration guards and authorities who do these violent things to undocumented immigrants in real life. They have a special place in hell those people. I did some research and even found about an unseeable thing, the rape tree; they rape these smuggled in, immigrant girls under that tree and have them hang their underwears there. How…I don't even have words. I'm so sorry.
(I'm actually writing this review with a tight thoat. I feel like crying again.) Soli is so soft yet so brave. I can't even begin to wonder what she's got to be that strong. She's so young yet I see her as the perfect mother. She's just 20. I'm even older than her and the things she'd already been through. That's what got her going her child. Nacho is a lucky boy to have a mother like her. I'm glad that no matter how cruel this world can be there are still a few but has a good heart strangers. I feel a connection to the Maxicans because here in the Philippines it's no different. You can see girls harassed and trafficked in the news, everywhere, just to have a chance to make their lives and their family's lives in provinces far away. Even the Mexican expressions are so Filipino.
I high-key respect the Indian couple; Rishi and Kavya. If I ever decide to get married someday, I want a husband like Rishi. A supportive one, he's with Kavya through her struggling of having a child, therapies and even adoption. I feel so sorry for them not having a child. If losing an unborn baby hurt how much more with a baby that isn't yours but you've learned to love and raised your own.
But as hard as it really is, Rishi and Kavya doesn't own Iggy so Soli have a right. I don't know who to side with really but after all that Soli has been through for her baby boy, I think she deserves to be with him because he's basically her life. I think Soli will never really survive or stop fighting for Iggy until death. These two women, is clearly a mother of the child in their own right.
These things let me just shout to the void; Immigrants, undocumented or not are human beings, they have a right to life, to be respected, to the law. They are humans and it is very unacceptable to treat them like animals. Because of this book, I'm thinking about pursuing law. And I'd probably spend my life helping girls like Soli. I'm with Soli and all the immigrant girls who experienced the things she experienced in spirit. Stop with the violence Down with the hate. I really hope that love and peace will someday rule the world, the kind of love like what Soli and Kavya for the boy, Ignacio.
The Verdict:
After I read this book I really got a headache and a fever. This book is that good, it makes your inside turn up and your heart hurt and burst with have and love. This is a blast of a book. Read it and get informed. Don't be ignorant and speak up. Be brave, be soft. Fight for yourself, love and life. 5 stars, forever and ever.